TNT Driving School Helps You Get Your Utah License
Safety First Attitude – Passionate Teaching Style – Informative Classes
TNT Driving School, located in Heber City, Park City, Richfield and St. George, Utah, offers the traditional 9-day classroom course with a Utah qualified, state-certified, licensed professional driving instructor. TNT also provides you with one-on-one interaction that is both flexible for your schedule and affordable.
The instructor provides, for students on a daily basis, a complete comprehensive Driver Education course. To learn more about what we provide and what you need to do in order to qualify to receive your drivers license, check out my
FAQ
page to begin. Or to make an appointment please
contact me
to schedule one.
What Do I Need To Start Drivers Ed?
Step 1:
Get your Learner's Permit. You can get your Learner's permit at 15 years old.
Step 2:
Enroll in Driver's Ed. Once you have your Learner's Permit, you can sign up for my Driver's Ed class.
Step 3:
Attend all your classes and driving sessions. After completing the course, you can go to the DLD.
Still have a question or two? Contact Us so we can help you!
Learn More About Me:
Well hello there! My name is Tracy Newby and I am the instructor for all classes and driving. I am the owner of TNT Driving School. I have dedicated over 21 years being a Drivers Ed Instructor and have helped all those who wish to learn how to drive. My many experiences through the years have helped me to understand and help those who want to learn how to drive.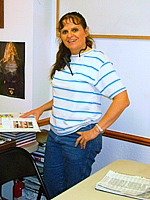 I Provide service to St. George, Richfield, Heber City, Park City, and all surrounding areas of those.
My customers say it all
Tracy was an amazing teacher! She was so kind and got me through the drivers ed course within 9 days. I feel more confident driving after learning the rules of the road and learning how to deal with the unexpected. Thank you so much Tracy!!
– Amanda Steed
She was amazing, she truly cares about her students and is passionate about her job. She made sure I understood everything and if I had any questions she always had an answer. One of the best teachers I have ever had.
– Caleb Goeser
Tracy has taught both my kids and is an amazing driving instructor. I appreciate that she's an accredited High School teacher and have noticed she's really good with various personalities and learning styles. I would absolutely recommend TNT Driving School.
– Kamme Edsberg
This school was a life saver. She was easy to work with and actually taught me. I had been trying to get my license for 2 years and I work with her for one month and got it no problem. I would and have been recommending her to my friends and family.
– Charity Hampton